Guest post by Julia Swanner, Baylor University Intern, and Liz Hagins, Midway ISD Teacher
The preface: In our PreAP 8th grade English class, my mentor teacher and I were noticing a severe lack of enthusiasm for reading expository writing, specifically breaking down passages to get to the core of them. We implemented Kylene Beers's nonfiction "signposts" to help our students discover what an author was truly trying to tell us. Beers' annotation strategies for attacking nonfiction pieces and fiction alike assist students in seeing the deeper meaning of the text in front of them. Beers' nonfiction signposts are: contrasts and contradictions, extreme and absolute language, numbers and stats, quoted words and word gaps. Students would use these signposts to help them "read beyond the four corners of the text." We combined these strategies for annotating with a strategy called "mind mapping" and watched as students came to conclusions and were making inferences in a whole new way.

The lesson: Choice is key in a student's willingness to be shaped by what we are teaching them in class. As students came into class for this lesson, they were directed towards a poll where they would choose what they wanted to read about from the following list: sports, music, technology or the election process. After they chose their topic, we divided them up into groups according to their preferred area of interest. In those groups, they received a high-interest article, obtained from newsELA.com, pertaining to their chosen topic. They found a buddy to work within their groups and began to dive into their article, with their signposts bookmark nearby as a reminder. The students were asked to read through their article once first, then start combing back through using the nonfiction signposts to help them annotate and mark up their passage along the way. We chose articles that weren't too long, intending for students to spend more of their time annotating and talking about their articles.
Next, students applied the "mind mapping" strategy. In the middle of a blank sheet of paper they wrote the title of their article, and shooting out from that would be each of the five signposts. This is where the true analysis came in. Locating a signpost is one thing, but what does one do after spotting one? On streets and highways, signposts tell us what to do or where to go. That's what they tell us in the text as well. Students reflected, doodled, and responded to the signpost using the follow-up questions that support each signpost. This is what guided them to look beyond the words on the page, encouraging critical thinking and questioning, all the good stuff that we teachers need them to do in order to be proficient readers. This helped them to view what they had annotated in a way that they could draw conclusions from their reading. Students were then asked to write what they believed to be the author's purpose of their assigned article, something that is not said in the text but something that they pulled from it. We watched as students used inferencing skills and pulled away information that they would not have thought about with the help of the signposts.
Reflection: Expository text can be something that students have a hard time relating to in the middle grades. Giving students a choice of something they were interested in reading was a huge factor in the success of this lesson. We often remind students that as they get older, expository reading is a bulk of the kind of reading they will do when they are not reading for fun. These strategies from Beers helped students to really focus their thinking and made them ask themselves the questions that they would need to ask to arrive at more complex conclusions. They could pick out a quote from the text, but to stop and ask "why was this person quoted and what did it add?" led to a different level of thinking. These strategies helped students look at text more critically and think hard about what the author was trying to tell us; some discovered that the author had a bias and they wouldn't have been led to this conclusion without the signposts. These signposts are a great way to get students to slow down, think deep, and sharpen up those inferencing skills.
Meet the Authors
Julia Swanner is a senior education major at Baylor University. She graduates in May 2017, and is excited about having a classroom of her own!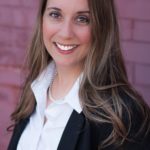 Liz Hagins is a dynamic teacher who is constantly searching for the best way to meet her students' needs.  She is currently teaching 8th-grade ELAR at Midway Middle School.