** Contact us if you would like Rogers Education Consulting to bring an engaging, hands-on poetry session to your campus **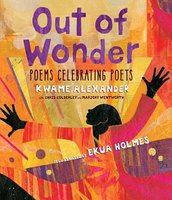 For week three, I thought I'd lighten it up a bit! This collection of poems celebrating poets is incredible and just makes me happy. The range of poets celebrated in Out of Wonder is wide, and it is also an opportunity to introduce students to three contemporary poets. Such a unique collection, sure to add a different perspective to your study of any of the poets involved!
(This is week three of my series on poetry in honor of National Poetry Month. If you missed weeks one and two, here you go!  "Harlem," Langston Hughes and "A Poison Tree," William Blake)
One morning, while listening to NPR, I perked up when I heard Kwame Alexander's voice talking about this collection. Ten minutes later (when I was safely parked, of course!) I was on Amazon.com to make yet another purchase. On the radio, Kwame spoke about how difficult it was to choose just twenty poets to include in this collection.  I'll admit some of my favorite poets were chosen, others were not, but I discovered several "new to me" poets that I will now need to research further!
Out of Wonder is a collection of original poems by Kwame Alexander, Chris Colderley, and Marjory Wentworth that celebrate 20 different famous poets. The book is split up into three different sections, Got Style, In Your Shoes, and Thank You, and each section begins with brief explanation about the theme of section that ties all the poems within it together. Each individual poem pays homage to a poet, sometimes with references to their work and sometimes emulating their style. The book also contains quick biographies at the back of the book for each famous poet – what a great way to spark inquiry!
This would be such a great book to bring out towards the end of a poetry unit, once you've taught rhyme scheme, rhythm, and all elements of poetry.  Put the students in groups and give each group one poem from this book.  Along with the poem provide the small biography and a few of the famous poet's poems.  Then have students research the famous poet celebrated in the contemporary poem.  From there, you can take it as deep as you have time for!  The students can explain how the contemporary poem pays homage to the original poet, or what techniques are used by both poets. Or, students can try to write their own poem emulating some of the techniques.  Candlewick created a teacher's guide with quick ideas for each poem to get you started.
As an example, in the book, Marjory Wentworth wrote a poem celebrating Robert Frost entitled In Every Season.  As I read, I quickly saw the connection to Frost's poem, The Road Not Taken, but it wasn't until I researched Frost a little more that I saw the connection to Reluctance, one of his lesser known works.  This is not something the students will be able to do without some help, but with a little guidance and a lot of exploration, they should discover a lot of new knowledge to share with their classmates.  Imagine all the reading and researching skills the students will be using as they explore Out of Wonder!