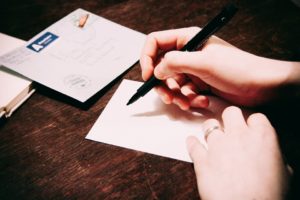 I have to admit, this is one of my favorite times of the year.  I love the excitement of getting to know a whole new group of students. I enjoy deliberating on my classroom furniture and thinking about how to design my room. I thrive off of creating new routines that will make my classroom a community.
In thinking about creating a classroom community, don't underestimate the power of the written word to create a strong relationship!  Here are three ways to create relationships through writing:
Random notes of appreciation.  Throughout a month, hand write a note to each student.  In the note, write about things you notice them doing, both academic and nonacademic.  While writing the note, keep the growth mindset in mind.  In other words, write about things the student is doing, not things they are.  These notes don't have to be long, just personal.  Write the note on a special card and leave it on the student's desk.  Trust me, it will make the student's day!
Snail mail letters.  Following the same premise as above, you can mail letters to the students' homes.  The last school my personal children attended would send notes  home every so often conveying some sort of greatness that they did at school.  My children and I loved getting those letters.  It was amazing how much they lit up when they got a letter from school.  When you mail the letters home, it also involves parents and help create a strong parent relationship as well.  The letters should be written in a similar manner as the random notes of appreciation.
Parent introductions.  Before school begins, ask parents to write a letter of introduction for their student.  Explain that the letters don't have to be long, just personal, giving you insight into their student.  The letter should introduce the positive qualities of the student.  With the letters, you'll get to know students and families a little better, and you can share the letter with the students.  This is a great way to strengthen relationships.
How do you strengthen relationships with parents and students?