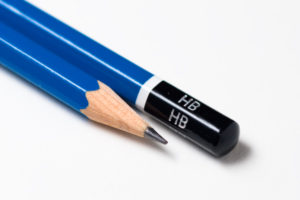 Yes, a post about pencils.  How is it that something as small as a pencil can cause so much grief for teachers?  At times it is the bane of our existence.  Students not having pencils when it's time to write, students having pencils when they should be listening, students sharpening pencils for hours on end, and of course pencil shortages.  While I can't, and won't, pretend to solve the dilemma that is pencils, I would like to offer a few suggestions.
For my primary teachers or self-contained teachers, try having two sharpened pencils on each student's desk. When one of the pencils becomes dull, the student should put it in the "dull pencil" canister and take a pencil from the "sharpened pencil" canister.  At all times every student should have two working pencils on their desk.  At lunch time, have two helpers sharpen all the dull pencils and put them in the sharpened pencil canister.
For secondary teachers or departmentalized teachers, hand out pencils at the door.  Yes, this might sound crazy.  Truth is, it's a good idea to greet your students at the door daily anyway, to build relationships.  This time provide them a sharpened pencil, even if they don't need one.  As students leave the classroom and turn in an exit ticket or whatever, collect the pencil from them.  Students MUST give you back your pencil.  This guarantees that all students will have a sharpened pencil for class.  To prepare for using this strategy, make sure you have those sharpened pencil canisters ready! I suggest one canister per class period.
To help (not fix, but

help

) with losing pencils, try marking your pencils.  I found fun duct tape and wrapped it around the ends of all my pencils.  The duct tape I chose was unique to me and my taste, students would find my pencils in the hallway and bring them back to me.  Seems extreme? Yes, but the struggle is real!
In order to help more teachers, please please share your ideas!
How do you solve the pencil dilemma?