I was thrilled to be asked to model brainstorming for expository writing to fourth graders using the Writers' Workshop framework.  The students had already been taught expository writing and were able to tell me that "expository" meant they had to explain something.  Many of the students equated it to research.  The Texas Education Agency has defined the purpose as writing to clarify or explain.  So I told them that to clarify something means to make clear.  As a class, we discussed that our writing will need to explain a topic in the clearest way possible so that our reader understands everything.
To decide on a topic, we went right to writing territories.  The students brainstormed their favorite places.  Eventually, this will become an expository piece that will explain and describe their favorite place.  I modeled first, explaining that I would close my eyes and think of the places that made me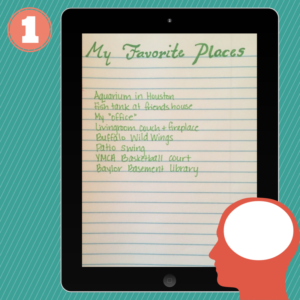 the most happy.  My think-aloud sounded something like this: "I need to picture the place where I feel the most comfortable.  When I'm in that place I know I'm safe and happy.  To me, this place is my kitchen.  I love the smells and the fact that it's the only place that I feel like I have complete control.  I think the place that I am the most happy is at the basketball gym.  I am most happy there, because my whole family is together watching the game.  We spend time laughing and cheering each other on.  It's definitely a special place."  My think-aloud continued, and I talked about at least four or five places I find special.  The think-aloud is so important, because that's what students are going to use to begin thinking of their own places.  After the model, students had time to write their own lists.
Don't save your conferencing for the end!  Conference now!  During this time while the students were writing, I walked around and stopped by students who seemed to be stuck.  I asked them questions: "What do you like to do after school?", "What do you do on weekends?", "When are you the happiest?", etc.  With the responses from these questions, I got the students to write down these special places.
The next step is crucial to the writing process.  Let the students talk and share!  I gave the students time to share their favorite places with a partner.  Not just share the place, but begin to explain the place a little, just like I did when I modeled.  This step is multifaceted.  Yes, the students are excited and engaged because they are sharing their stories, but they are also pre-writing.  The students are beginning to think about how they are going to explain this special place.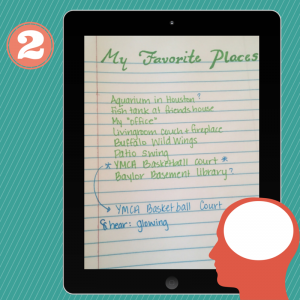 From there, I modeled, again with a think aloud about how to pick one idea to begin the writing.  I explained that it didn't have to be their favorite place, but it should be the one that will make the best story.  Since we are going to be describing this place with the five senses and explaining why it's special, I want to make sure I have one that I know those details about.  I chose to write about the basketball gym.  Everyone chose their own special place.
I had the students hold up their hands.  I told them to copy me.  "Put your thumb on your ear.  Your pointer finger on your eye, your middle finger on your nose, your ring finger on your lips, and your pinkie on your chin."  I asked the students to tell me what all those things do.  After some conversation, the students realized that these are the five senses.  I like to show the students this way, because in case they forget later, their hand will remind them what the senses are.  I wrote down: hearing, seeing, smelling, tasting, and touching on my brainstorming page.
I brought in a picture of my favorite place to show students.  I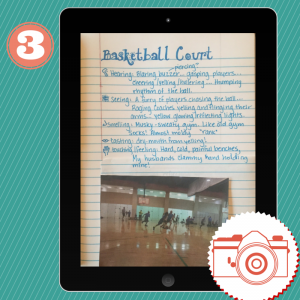 always allow the students to bring in pictures when they can, but they don't have to.  I want the students to know that they must visualize the place they are about to describe.  They should shut their ideas and pay attention to the visual in their head.  I bring in the picture, so that while I model the students can see my picture in my head.  While modeling and thinking aloud, I discussed what I hear when at the basketball game.  I spent time explaining the sounds, the echoing, the yelling, the loud piercing buzzer that I'm never fully prepared for.  From there, I modeling the other senses.  Then the students worked on their details.
Again – conference!  Meet with the students.  By helping them here, they will have stronger writing.  I met with one student who said the lake was his special place and it felt yucky.  So, in our conference I asked him why it was yucky.  After quite a bit of nudging, he let me know the moss gets on him and that's yucky.  So I asked him what the moss feels like.  He said slimy.  YAY!  I told him that was a great word for his brainstorm page, because it let me, "the reader," get a great visualization of what was yucky at the lake.  I can picture slimy moss all over his skin.  Yuck!  Remember, in the conference not to provide the details for the students.  It takes a lot of self control, but just nudge, question, and prompt until the student answers the question.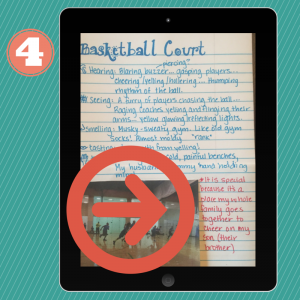 From here, the students will begin their drafts.  As the students develop their drafts, I provided the teachers with various lessons on how to add details to their writing.
I can't wait to see the final papers!
What is one of your favorite ways to brainstorm topics for expository writing?