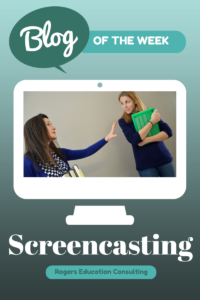 With so much buzz around flipped classrooms, meeting individualized needs, and including parents as partners, why not screencast?  Screencasting, recording the action that takes place on the computer screen with sound, is an easy way to accomplish all those goals.  Teachers can quickly create screencasts that can be viewed at home (with or without internet and on various devices) or be used as a reteach tool in the classroom that students can watch, pause, and rewind as many times as necessary.
I had heard plenty about screencasting in my travels as an Education Consultant, but admittedly never sat down to tinker with it.  Finally, with encouragement from my professor at Baylor, I decided to give it a try.  As I usually do, I quickly found one tool that fit my style of work and stuck to it.  I used ezvid, a free downloadable program.  I liked the simplicity and ability to edit and correct mistakes without having to begin anew each time. I created quick videos that were uploaded to my youtube channel and easily embedded.
Now that I had created these videos, I wanted a fresh place to share them, along with my ideas on screencasting.  Enter my partner in crime, Sherry McElhannon.  She  is always finding fabulous new ways to post and track information.  Taking one of her great ideas, I used smore.com to create an online flier.  If you're interested in learning more about screencasting, check out my smore.
Don't forget to tell me how you've used screencasting in your classroom or how you intend to use it in the future!